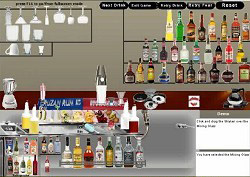 iBar Interactive Bartending Training Software
The iBar software is an interactive training tool designed to help train bartenders in a simulated bar environment with realistic liquor bottles, hundreds of drink recipe scenarios, and a realistic bar setup. iBar replaces the practice bars offered by traditional bartending schools and offers bartenders a way to practice unlimited drink making in a realistic bar environment. With iBar, there is no limit to the amount of time you can spend practicing. Making drinks in the iBar will help you understand the process of mixing each drink at each step and you will see improvements in the speed and accuracy at which you are able to remember drink recipes as well as the general bar setup itself.
iBar is not like other bartender simulation software
Other bartending simulation software is not designed like a real bar. iBar is the only interactive training software that is setup like a real bar. The premium alcohols are on the shelf ("top-shelf alcohols") and the cheaper alcohols are on the front of the bar which is called the speed rail (or just "rail"), so a bartender can choose the alcohol quickly.
With iBar, you interact with all the items in the bar. Use any of the glassware, alcohols, garnishes, juices, soda gun, straws, and more to create realistic drinks from the iBar database. The software gives you immediate feedback on how you did with each drink. There are even different modes of operation allowing you to free-pour drinks or use a jigger to measure the alcohol in each drink.
---