Home
Food Safety for Handlers
Virginia Food Safety for Handlers Information
As a food handler working in the food service industry, it is your responsibility to know safe food handling techniques and procedures. This online food safety training course will teach you everything you need to know to work as a responsible food handler and provide you an industry accepted certificate from PSCC, a leader in the hospitality / food service industry.
Food Safety for Handlers
Course topics include:
Foodborne Illness
Personal Hygiene
Time & Temperature Control
Receiving & Storage
Preventing Contamination
Cleaning & Sanitizing
Final Exam
Course Terminology
Bacteria
Biological Hazard
Chemical Hazard
Cross Contamination
Cross-Contact
Danger Zone
Food Allergy
Foodborne Illness
Foodborne Illness Outbreak
Highly Susceptible Population
Hygiene
Jaundice
Pathogens
Physical Hazard
Ready-To-Eat Food
RTE
Sanitize
Single-Service Articles
Single-Use Articles
TCS Food
Virus

Receive an official PSCC Food Handler Wallet Card by mail for food handlers in Virginia!

No Extra Charge!
There is no additional cost to receive your food safety / food handler's wallet card!
Generate a printable food safety certificate for Virginia upon course completion
Receive your PSCC food handler's permit / wallet card for Virginia in the mail within 15 days.
Click the
add to cart
button below and proceed to the checkout to get signed up. You will be emailed a username/password to login and begin.
---
Food Safety for Handlers is also available through the following offer: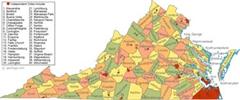 Related Courses for Virginia: